How to spot a shill in the news media:
Edward N Jackson - Equitable Building Fire-1912
Eddie Jackson had an instinctive eye for photo composition as these early pictures taken in the 1912 Equitable Building fire clearly show. With no formal training in photography or composition, Eddie shows us and his photographic peers of the era his ability to construct a photograph to a high dramatic level---even during the excitement of the scene as it unfolds. As Eddie Jackson stated later in life "a good photograph is worth 10 columns of copy."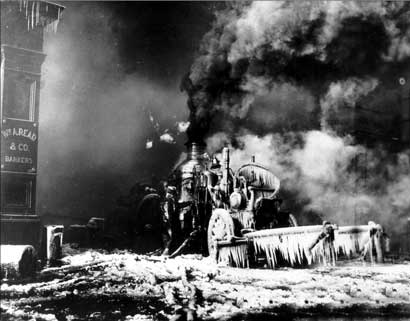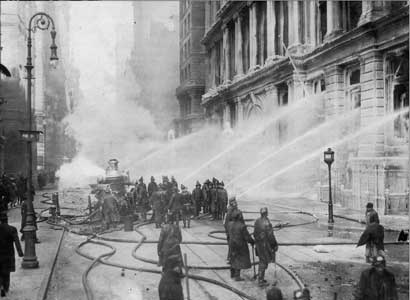 One of Eddie's first free-lance photo opportunities before working for the American Press
Association, was the New York Equitable Building eight-alarm fire in the financial district on Pine Street in January, 1912. Six people lost their lives due to what started out as a small fire in a wastepaper basket. Three men that were trapped in the basement trying to save millions of dollars in negotiable bonds were saved by the heroism of an American Indian, Seneca Larke Jr., who crawled through the rubble and used a hacksaw to free them.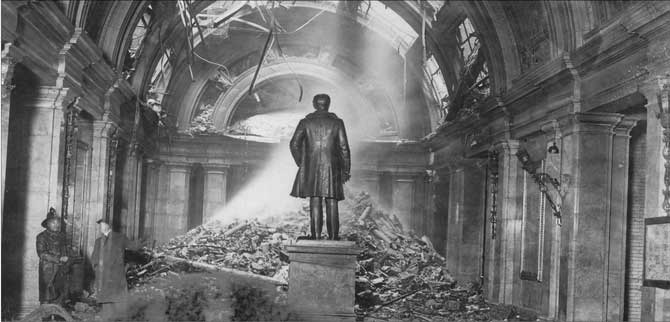 From the time America's first pictorial tabloid appeared to the end of World War II, history shaped sensationalistic newspapers, which in turn contributed to history through photographs and stances on political issues. With the establishment of New York's Illustrated Daily News on June 26, 1919 by Joseph Medill Patterson, tabloid journalism grew at an incredible pace. In fact, the News quickly rose to the top as the leader in total daily circulation.
Probably the most significant contribution to history by the tabloids during the years between 1920 and 1945 is the great collection of photographs that were captured before synchronized strobe lights, choice of film speeds, and small, lightweight cameras. In fact, the use of pictures was one of the primary reasons Joseph Patterson gave for printing the Illustrated Daily News in the morning, for in a letter he stated, "…all morning New York papers are alike and none of them print pictures".9 In fact, the Illustrated Daily News is famous for being America's first picture tabloid.
One of the first exclusive picture opportunities for the tabloid occurred on September 16, 1920. Captain Edward N. Jackson of the Daily News was on a routine assignment in Wall Street when a dynamite bomb in a horse-drawn wagon went off, killing thirty people and injuring a hundred. Jackson went to work, capturing the best pictures of the disaster. Other photographers soon arrived on the scene, but by then the police had already drawn lines about the explosion area. Jackson consequently was the only journalist to escape with on-the-scene pictures of the victims and first aid work. In cases such as this, history influenced the paper to cover the story, and the paper's pictorial coverage augmented history by supplying pictures that would have otherwise never existed.
http://web.archive.org/web/20080201095530/http://home.snu.edu/~dwilliam/f97projects/tabloid/20s.html