James Warren
JONES Murderpedia page 1
James Warren Jones was born in Crete, Indiana, on May 13, 1931. Jones is fifth from right in the back row.
This is a 1948 class portrait from Lynn High School. Jimmy Jones is third from the left in the back row. Around this time he demonstrated a gift for preaching, delivering a sermon for a pep rally before a basketball game.
Jimmy Jones moved to Indianapolis in the 1950s. An advocate of racial equality, he founded the Peoples Temple, where blacks and whites worshiped together. The "Rev. Jim Jones" sold monkeys to raise funds for the church. (Bob Doeppers / Indianapolis News)
The first Peoples Temple in California was in Redwood Valley in Mendocino County. This site was later called the "Sunshine Center. AP The Chronicle, File 1979
Back in San Francisco, the preacher ingratiated himself with city leaders and the media. His congregation, which included many poor blacks, helped with the campaigns of George Moscone and other candidates. Jim Jones also donated money to social groups and gave grants to newspapers.
Stephanie Maze The Chronicle
Jim Jones, who followers thought could heal them, is touched by members of the Peoples Temple in Los Angeles, the location of his second church. (California Historical Society / 1974)
The Rev. Jim Jones (right) and Rev. Dr. A. E. Ubalde, Jr. (left) were appointed to the Housing Authority
Commission by S.F. Mayor George Moscone in 1976. (Clem Albers / The Chronicle)
Chronicle reporter Marshal Kilduff collaborated with writer Phil Tracy on a 1977 expose that detailed beatings and fake "cancer healings" and reported that the temple had forced members to turn over millions from savings accounts and the sale of their homes. (Stephanie Maze / The Chronicle)
Not long after the publication of Marshall Kilduff's piece, Jim Jones and his followers left for Guyana in 1977. Here, preparations for the move begin behind the Peoples Temple in S.F. (Stephanie Maze / The Chronicle)
_____________________________________________________________________________
James Warren
JONES Murderpedia page 2
Temple members were promised utopia at the Jonestown agricultural commune. Instead, they labored in the fields and were subjected to suicide drills. Those who questioned Jim Jones' authority were punished.
(UPI / The Chronicle, File 1978)
Seventeen-year-old Deborah Layton was among the more than 1,000 followers who moved to Jones' Guyana jungle compound. Layton fled and went public with her story. (Vincent Maggiora / The Chronicle)
This photo by Greg Robinson, later slain at the Guyana airstrip, shows Jim Jones (center) listening as the Parks family tell him they want to leave Jonestown. (Greg Robinson / SF Examiner / Bancroft Library)
San Mateo congressman Leo Ryan went to Jonestown in Nov. 1978 to probe allegations that the jungle colony was run by a madman. Ryan was accompanied by reporters and relatives of Jonestown residents.
(Susan Ehmer / The Chronicle)
S.F. Examiner photographer Greg Robinson was among the journalists who went on the fact-finding mission with Leo Ryan. (Ron Javers / The Chronicle)
On Nov. 18, 1978, Leo Ryan and his delegation were about to leave Guyana when they were ambushed at an airstrip by Jonestown gunmen. Ryan, a member of the Parks family, S.F. Examiner photographer Greg Robinson, and two NBC reporters were killed. Tim Reiterman of the S.F. Examiner, who was wounded in the attack, took this photo with Robinson's camera.
(Tim Reiterman / SF Examiner / Bancroft Library)
NBC reporter Don Harris (left) and S.F. Examiner photographer Greg Robinson (right) were filmed by NBC cameraman Robert Brown just minutes before all three were killed. (NBC / Chronicle File 1978)
Leo Ryan's 28-year-old aide, Jackie Speier, was shot and wounded. "I was lying on the ground by one of the plane's wheels, pretending to be dead," she recalled in a 1988 interview with the Chronicle.
(Associated Press File Photo)
The killings at the airport were begun by Larry Layton, in the unbuttoned shirt, above. Though Layton was known to be a Jones loyalist, he insisted on joining Ryan and his group shortly before they headed to the airstrip, saying he wanted to return to the U.S. as well. Once inside the plane, he produced a gun and started shooting. He was joined moments later by members of Jones' Red Brigade security team. Of all the gunmen, only Layton was convicted for the murders.
________________________________________________________________________________
James Warren
JONES Murderpedia page 3
In the years prior to the tragedy, Jones had obtained a jeweler's license that allowed him to purchase
cyanide, used to clean gold. The temple took in a half-pound of the poison each month.
Also found at the compound were large quantities of potassium chloride.
Adults drank from cups. Those who refused were forced or shot. Syringes were used to spray the poisonous
fluid down the throats of babies. (UPI/ San Francisco Chronicle File 1978) (UPI / The Chronicle, File 1978)
The next day, Guyanese forces sent to Jonestown found the compound carpeted with bodies. (Associated Press)
More than 900 members of the Peoples Temple died in Jim Jones' "revolutionary suicide." (AP)
AP, Frank Johnston / The Chronicle, File 1978
Many victims were found with their arms wrapped around each other. (AP, File)
The cult leader known as "Father" used this chair as his throne. He died from a bullet to the head by an unknown hand. He was 47. (AP, Frank Johnston / The Chronicle, File 1978)
Around the time of the airstrip attack, Jim Jones gathered devotees into the main pavilion and exhorted them to drink grape punch laced with cyanide. (Associated Press file photo, 1978)
Guyana forces also found weapons at the Peoples Temple mission building.
(UPI / The Chronicle, File 1978)
Enormous stashes of medical equipment and drugs were discovered in the refrigerator (pictured) of Jim Jones' bedroom and throughout his home. (AP / The Chronicle, File 1978)
Hyacinth Thrash (right), shown in 1983, was the only person found alive in Jonestown. Others members had fled into the jungles. (Photo by Robert Coalson, courtesy of Marian Towne)
More than 400 Jonestown victims are buried at Evergreen Cemetery in Oakland.
(Mark Costantini, 2003 / The Chronicle)
About 870 passports were found by the first searchers to arrive on the scene. The difference between their number and the number of victims can largely be accounted for by the several dozen children born at the compound.
_________________________________________________________________________________
November 22,1998, Stabroek News,
The cult of death Jonestown: 20 years after
On November 18, 1978, some 900 members of the People's Temple Cult, founded by Indiana-born Rev Jim Jones, died in a ritual of mass suicide and murder at Jonestown near Port Kaituma in Guyana's jungle. A visiting United States congressman, three news reporters and cult defectors were shot to death.
The majority of the people were United States citizens from San Francisco, California, where the cult had been based before Jones started moving his flock to the Guyana jungle in 1974. The congressman, Leo Ryan, had come to Guyana at the insistence of relatives of some cult members who had reported that their relatives at Jonestown were being held against their will, beaten and subjected to suicide drills. During Ryan's visit to the cult site, some 20 members decided to defect, some of them were shot dead at Port Kaituma airstrip as they were about to board a Guyana Airways chartered plane back to Timehri. The rest of the cult members in Jonestown were fed, some forcibly, a mixture of cyanide and Kool Aid. Some cult members who were in Georgetown, were murdered by Jones's lieutenants. Jones's son Stephan and members of a People's Temple basketball team, who were also in Georgetown escaped harm. Jones himself was found dead with a single bullet wound to the head.
To today, no one has been able to completely understand why it all happened. Jim Jones has been called charismatic and mad and he somehow managed to persuade more than 1,000 people to follow him and maybe half that number to voluntarily join him in death.
Rev Jim Jones at a political rally in the US. At right is former US president, Jimmy Carter.
Going home: Military personnel preparing and sealing the aluminium caskets to fly the bodies back to the US.
They escaped it all: From left Deborah Tochette, 23; Paula Adams, 23; Stephan Jones, 19; and basketball coach Lee Ingram speaking to the press after the mass suicide 20 years ago.
She slept through it all! Seventy-six-year-old Odella Rhodes slept throughout the mass suicide/murder at Jonestown. She was found alive by police and army personnel.
The youngest survivor, Jakarri Wilson then three years old with his mother. She escaped with him through the jungle
Jones's cache: Army personnel examine weapons found at Jonestown
Tots in a Jonestown nursery before the massacre.
Close in death: Members of a family cling to each other in death at Jonestown
________________________________________________________________________________
Brasscheck,
"We Support Jim Jones"
Note:
The pictures on this page and the next appeared in the book S
ix Years with God
. The author, Jeannie Mills, her husband Al, and daughter Daphne were found murdered in their Berkeley home in 1980.
The Mills family, escapees from the People's Temple, had been threatened with death by Jones' supporters. Mills had been director of publicity for the "church" and had extensive knowledge and documentation of its relationship with local political figures. No one has ever been charged with the murder of the Mills family and the crime has never been solved.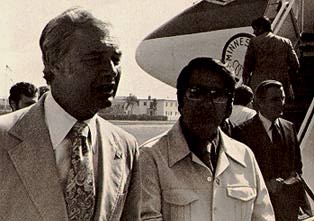 Mayor George Moscone and Jim Jones meet Walter Mondale at SFO - Willie Brown attributed Moscone's electoral victory to Jones
"Mayor George Moscone said yesterday that his office will not conduct any investigation into allegations that have been made about Rev. Jim Jones. . ." - July 27, 1977
District Attorney Joseph Frietas appointed Jones attorney Tim Stoen to investigate allegations of election fraud in Moscone's election even though members of the People's Temple were among the prime suspects.
Election fraud
continues to be a tradition in San Francisco today.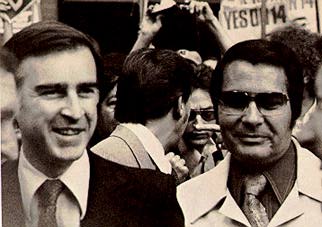 Jones delivered votes for Jerry Brown's campaign for governor. As governor, Brown ordered the Temple's records removed from San Francisco to Sacramento just weeks after the Jonestown murders
"Ninety-nine percent of all the work done by People's Temple is in the service of the elderly, poor families, and troubled youth. . . It is most unfortunate that some people. . . feel threatened by this simple organization and philosophy of service." -
Art Agnos
-
photocopy of the full letter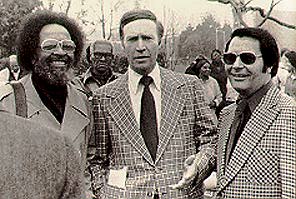 Mutual admiration society:
Preacher-entrepreneur Cecil Williams, Police Chief Charles Gain, and Jim Jones - While building his "church" in San Francisco, Jones was engaged in extensive financial fraud and the torture and sexual abuse of children. Local politicians like Williams and Gain "saw no evil."
"Called less formally PT, the church is best known and highly regarded for its social works, which include housing and feeding senior citizens and medical convalescents maintaining a home for retarded boys, rehabilitating youthful drug users. . ."
-
Charles deYoung Thieriot, Publisher of the Chronicle
"Timothy and Grace Stoen, the parties that have been attempting to damage Rev. Jones' reputation, and seriously disrupt the life of his son, John, have already been discredited by the news media here." -
Harvey Milk
-
photocopy of the full letter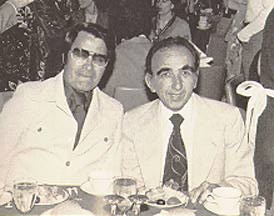 Bob Wallach, head of the SF Bar Association and Jones
. The People's Temple kept a small army of San Francisco attorneys busy as they successfully fought parents for custody of their own children and engaged in a wide variety of fraudulent activities. The legal fees were money well spent as local courts found in Jones' favor in every case.
"Jim Jones is a rare, rare specimen. Jim Jones is a symbol of what we all ought to be about. . . Jim Jones is, in my opinion, a true human being." -
Willie Brown, Jr.
________________________________________________________________________________
The Jonestown Massacre: A Tragedy Made in San Francisco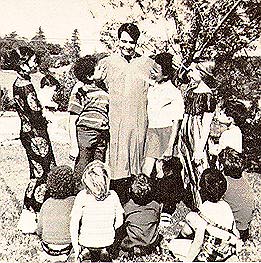 Promotional photo taken in 1972 and used widely to demonstrate Jones' love of children
From left to right top:
Kim Uneii - murdered in Jonestown
John-John Stoen (baby being held by Uneii) - murdered in Jonestown
Phil Lacey - survivor. His mother and sister were murdered in Jonestown
Dorothy Buckley - murdered in Jonestown
Name withheld - survivor
Darrin Swinney - murdered in Jonestown
From left to right bottom:
Danny Beck - murdered in Jonestown
Steve Burnham - survivor
Martin Amos - murdered in Jonestown
Danny Pierson - believed to have survived, but whereabouts unknown
Darrin Janaro - murdered in Jonestown
From a cable sent to the State Department by Consul Richard McCoy after a visit to Jonestown on August 30, 1978:
. . .FRANKLY ENTIRE SITUATION SEEMS VERY STRANGE SINCE CHILDREN FOR THE MOST PART HAVE ONLY BEEN IN GUYANA NOT MORE THAN FOUR MONTHS. SOMEONE HAD TO APPLY FOR PASSPORTS FOR THEM AND ALLOW THEM TO TRAVEL. A SEPARATE QUESTION PERTAINS TO THE CHILDREN WHO HAVE BEEN AWARDED TO JONES AND OTHER MEMBERS OF THE PEOPLE'S TEMPLE BY THE STATE OF CALIFORNIA. PRESUMABLY COURTS THERE AGREED TO THEIR REMOVAL FROM STATE JURISDICTION. . .
"The Examiner had the goods on Jones more than six years before Jonestown"
Lester Kinsolving's report
- Examiner reporter whose 1972 reporting on Jones was suppressed by the Examiner's publisher.

Another very detailed report on the failure of the San Francisco news media to report on Jones' misdeeds in California - MUST READING: "Madman in Our Midst: Jim Jones and the California Cover-Up"

287 children were murdered in Jonestown
On December 12, 1978, the New York Times reported that a Guyanese court ruled that all but three of the deaths in Jonestown were the result of murder, not suicide. No California politician, official, judge, or attorney who participated with Jones in schemes to defraud government social programs, rig elections, or remove children from their parents or state supervision has ever been charged or even investigated for their complicity in these crimes.

Willie Brown Jr. is now mayor of San Francisco
Jerry Brown is now mayor of Oakland
Art Agnos was mayor of San Francisco and is now a regional director for HUD
George Moscone and Harvey Milk were assassinated by Dan White, a former San Francisco police officer, nine days after the Jonestown Massacre.
District Attorney Joseph Frietas, who was elected through Jim Jones' support and who appointed Jones' own attorney to investigate election fraud in the 1975 election, personally handled the prosecution. White was acquitted of first degree murder on a technicality so ridiculous ("the Twinkie defense") that it was later outlawed by the state of California.

Links for additional research:
An old tradition: Political corruption in San Francisco
Jonestown and election fraud in the 1975 fall election in San Francisco
A contemporary example of election fraud in San Francisco featuring Jones ally Willie Brown.
The destruction of the Fillmore and economic violence against San Francisco's black community
Politically motivated police violence in San Francisco
Ken McCarthy's review of ABC's one hour special on Jonestown aired October 18, 1998, one month before the 20th anniversary of the massacre.
The Scapegoat Generation - How American media owners and politicians, with California offering a particular odious example, use disinformation about the young to promote the cutting of social programs and building of more jails.
Primary Source Materials From The U.S. Department of State - Includes letters from Joseph Alioto, Harvey Milk, Art Agnos and Sue Bierman written on behalf of Jim Jones and disputing the charges of the "Concerned Relatives." Also includes the complete text of a flyer published by the "Concerned Relatives" and a formerly classified State Department document listing those who'd formally petitioned the government for help in insuring the safety of their family members prior to the mass murders.Books about Jonestown that address Jones' central role in the political culture of San Francisco:

Children of Jonestown - will be back in print soon. Author Kenneth Wooden now runs an organization that teachers children to recognize and protect themselves from abusive people. It's called Child Lures
Hold Hands and Die - out of print
Raven - out of print
Heavenly Deceptor




"The mass suicides and murders In Jonestown, Guyana, were the most widely followed event of 1978, with a remarkable 98% of Americans saying they heard or read about the tragic occurrence. Few events, in fact, in the entire 43-year history of the Gallup Poll have been known to such a high proportion of the U.S. public."

- George Gallup



Back to homepage
___________________________________________________________________________